Professional Bio
Return to Executive Team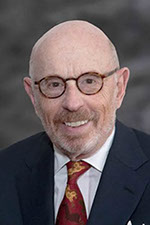 steven-j.-kessler
Executive Director and Chief Financial Officer
Steven J. Kessler has enjoyed a 50-plus year career in accounting, finance, and real estate, and is currently serving on the Board of Directors of Resource Capital Corp. (trading under the symbol RSO), a NYSE diversified real estate finance company that conducts its operations to qualify as a REIT. He has been a member of the board since 2009 and served as Chairman from November of 2009 to September of 2016.
Prior to becoming Chairman of Resource Capital Corp., he was Chief Financial Officer of Resource America, Inc. (trading under the symbol REXI), a NASDAQ specialized asset management company that focuses on the areas of real estate, financial fund management and commercial finance. He was also the Chief Financial Officer of Atlas Pipeline Partners, L.P., a publicly traded master limited partnership (trading under the symbol APL on the NYSE). Previously, he served as Vice President of finance and acquisitions at Kravco Company, a national shopping center developer and operator; he was a trustee and chairman of the audit committee of GMH Communities Trust, a NYSE specialty housing REIT, from its formation in 2004 to its sale in 2008; and Chief Financial and Chief Operating Officer of Strouse Greenberg & Co., a full service real estate company. He began his career at independent public accounting firm Touche & Ross Co. (now Deloitte & Touche, LLP).
Mr. Kessler also gives back to the community, previously serving as Chairman and presently serving as Treasurer of the Philadelphia Holocaust Remembrance Foundation, and is a trustee of the Albert Einstein Healthcare Network.
Mr. Kessler holds a BS in accounting from Temple University, and is a certified public accountant (inactive). In 2014 Mr. Kessler became a Gallery of Success Honoree of the Fox School of Business of Temple University. The Gallery of Success honor is awarded annually to Temple graduates who exemplify the University's long-standing tradition of self-made success and recognize those who have brought honor to the University by distinguishing themselves in their fields.