FRASER CENTRE NEWS & ANNOUNCEMENTS
By GEOFF RUSHTON 2016-10-05 12:23 PM
After more than a decade's wait, the Fraser Centre is starting to open its doors as Target held its soft opening on Wednesday.
The store is one of two retail businesses opening this week on the lower level of the new building. H&M clothing store is scheduled to open at noon on Thursday.
The 28,000 square foot Target differs from the larger store at The Colonnade in Patton Township because of its size and focus.
"The uniqueness of the store comes from the convenience of the grab and go," said store manager Jenna Holsberger. "You can pop in, get what you need and get back to what you were doing without without having to worry about a car or transportation."
The Fraser Centre store is what Target calls "flexible format." Target has opened 15 flexible format stores this year and operates 27 in total out of its nearly 1,800 total locations.
"It's much more urban settings or college areas where a big store isn't possible but the guest traffic is needed for us to build there," Holsberger said.
Integrated into the store are a Starbucks Coffee and a CVS pharmacy. A grocery section includes fresh produce, frozen foods and dry goods.
The store also includes an electronics section with a Target Mobile for phones, tablets and accessories; home goods geared toward dorm and apartment living; a health and beauty section; sports team apparel; stationery; seasonal items; and some toys and sporting goods.
Holsberger said the store has been working to find the best selection of items for the local market.
"It's a little of everything... From a localization standpoint, headquarters worked a lot with the right product assortment for what college students are looking for as well as the State College community," she said. "We're continuing to test new things and see what is really needed downtown here."
A grand opening for the store, which will employ about 70 people, will be held on Sunday, and then Target will be able to gauge how well they have started in the downtown community.
"I think we've got a great spot here," Holsberger added.
For photos from the new store, see the gallery below.
The 155-foot tall Fraser Centre also will be home to a 158-room Hyatt Place Hotel and restaurant and bar Federal Taphouse, which also has locations in Harrisburg and Lancaster. The Hyatt and Federal Taphouse will share a liquor license and are expected to open in December or January, Alex Hails of Real Estate Capital Management, which owns and is developing the mixed-use building, said in August.
Levels 9 through 12 of the Fraser Centre will be home to 26 residential condominium units, including four penthouse suites. Those are expected to be occupied around March 2017, Hails said.
The article below regarding RSR State College LP: Fraser Centre was posted on www.statecollege.com, it can be found Here.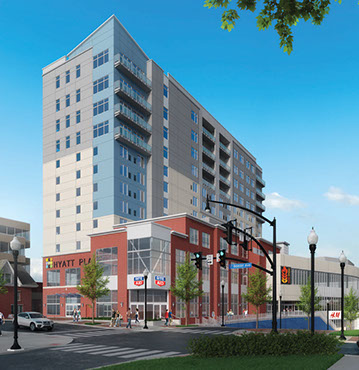 The Fraser Centre will feature 50,000 square feet of retail space, a 165-room Hyatt Place Hotel and 26 residential condominiums.
STATE COLLEGE, PA. - RSR EB-5 Regional Centers (RSR), an affiliate of Switzenbaum & Associates, has funded a $15.5 million loan for the financing of a ground-up construction mixed-use property in State College, through the U.S. Citizenship and Immigration Services (USCIS) EB-5 immigrant investor program. The interest-only loan is in conjunction with a $26.5 senior construction loan from Fulton Bank, which provided the remainder of the required debt for the project. Originally structured for 30 investors, the project opened an additional spot to due increased demand. While USCIS requirements for EB-5 stipulate that a minimum of 10 new jobs must be created for every investor, this project's construction and operation will create an estimated 521 jobs. The borrower, Fraser Partners, an affiliate of Real Estate Capital Management and Brickbox Enterprises, will use the funds to construct The Fraser Centre, a 265,000-square-foot mixed-use project on the crest of Pennsylvania State University's main campus. Slated for completion this fall, the development will feature 50,000 square feet of retail space, a 165-room Hyatt Place Hotel and 26 residential condominiums.
The article below regarding RSR State College LP: Fraser Centre was posted on www.rebusinessonline.com, it can be found Here
By SHAWN ANNARELLI 2016-01-19 10:23 AM
Another retailer has announced its Fraser Centre plans.
Target confirmed it would open in a 28,000-square-foot space in the Fraser Centre in a press release. It plans to open in October.
The Penn State store will be Target's first flexible format store in Pennsylvania outside of the Philadelphia area and will serve the State College community and Penn State University students.
"It's a wonderful, wonderful opportunity for us to get Target in the Fraser Centre," developer Gary Brandeis said. "They're taking whole first floor of the building. It will be a great use for downtown State College. The things they'll sell and provide are perfect for a college community."
Flexible-format Targets are a priority, according to the company, which said consumers respond well to the customized stores in areas where they previously couldn't have been opened before. The company operates 18 flexible format stores and announced plans to open 16 more locations over the next two years.
The design of the store will be tailored to college town demographics with things like home products for small apartment and dorm dwellers, grab-and-go grocery items and "meal solutions" for students on a budget, Target Mobile, fan merchandise and a pharmacy.
In addition to opening more stores in urban markets, Target plans to open stores near college campuses to meet the needs of the residential and student population in college towns.
Brandeis said Target fills out the Fraser Centre's business space with H&M, Federal Taphouse and a Hyatt Hotel.
The article below regarding RSR State College LP: Fraser Centre was posted on www.centredaily.com, it can be found HERE